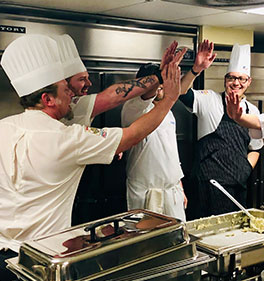 Made in Virginia
Center Stage Catering is a local, family owned company whose roots run deep here in Franklin County Virginia. Our small but mighty team dreamed big in early 2000 when we launched our catering company. Chef John Schopp and his Wife Karen discovered they were really good at feeding people who appreciate fresh cooked food with attention to detail … AND they loved doing it.
Fast forward several years … Center Stage transforms into the top wedding caterer, and our business evolves to encompass fine dining, elaborate weddings and social events … harnessing strong relationships with talented event planners, we pushed the limits of our team's full potential.
We emphasize employee empowerment, hospitality, and focused delivery of safe-fresh-healthy, made from scratch cuisine. Our culinary team, as well as the majority of our beverage and service staff, is comprised of 'culinary professionals'. With our stellar reputation, we continued to grow and take on team members who emulate the level of passion that have been instilled into our company. Along the way, we've expanded and have become a leader in providing exceptional service that clients can rely on and trust.
With several awards and many five-star reviews under the belt, our team enjoys coordinating large events for some of the most reputable companies in the region and helping couples' wedding dreams come true. Over the last 20 years, we've learned the secret to giving everyone we meet a big, warm Virginia welcome.
Thanks so much for your interest! We can't wait to learn more about you and your event. Simply fill out the event request form below or give us a call at 540.489.7827.