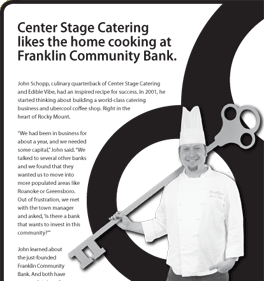 SIZZLE MAGAZINE: APPLE TARTE TATIN
(Summer 2014) – This simple, rustic apple tart Tatin is a favorite of John Schopp. Read more.
CHEFS SPEAK OUT: MAKING CULINARY MUSIC
(Tuesday, 30 April 2013) – John C. Schopp cooks with jazz, creating an intimate communion with his guests that's all about nourishing the essence of another human being. Read more.
PLUG BY CHRISTIAN MCBRIDE
Roanoke Times (October 2, 2009) – Christian McBride plugs Center Stage in his podcast interview promoting his upcoming Jeff Center Show. Pay attention at the 5 minute mark. Listen now!
ROANOKE TIMES
(July 7, 2009) – 'Jazz Chef' John Schopp known by Roanoke-area musicians. Read more.
ROANOKE TIMES
(December 04, 2005) – Cooking with class. Read more.
PLUG BY WYNTON MARSALIS
A clip from Wynton Marsalis & Jazz at Lincoln Center Orchestra at the Jefferson Center on October 7, 2008. Listen below or download here.
THE LAKER MAGAZINE
Center Stage Catering was featured in a recent issue! Click here to download the article.
WVTF PUBLIC RADIO
Center Stage Catering will be catering the monthly WVTF Public Radio Art Gallery. Cick here for more details. To listen to WVTF Public Radio live, click here for streaming audio.