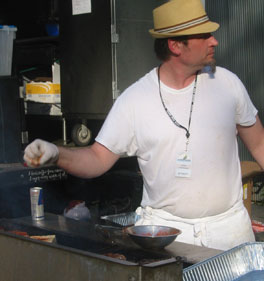 Side Dishes
Cuisine is what we are, but it's not all we are. Critically acclaimed chef John Schopp and our staff always have something cooking outside of the kitchen. It may be speaking at a conference or helping with a local cause or teaching a class.
VIX CAMPS – VICTOR WOOTEN'S CENTER FOR MUSIC AND NATURE
Three time "Bass Player of the Year" Victor Wooten loved John's food so much, we cater many of his Bass and Nature camps. Check it out! www.vixcamps.com
TEACHING
Sometimes it's a class. Sometimes it's a seminar. When there's something on the schedule, you'll find it here: Virginia Western Community College.
PROSE
We pen a monthly column called "Find your Flavor" for the good people at Bella magazine. If you missed the issue, check out John's pages here (pdf format, Adobe Reader requred):
August 2010
July 2010
June 2010
May 2010
April 2010
March 2010
FOOD FOR THOUGHT
We're just about ready to serve up two cookbooks filled with fresh ideas. You'll find the publishing and ordering information here soon!